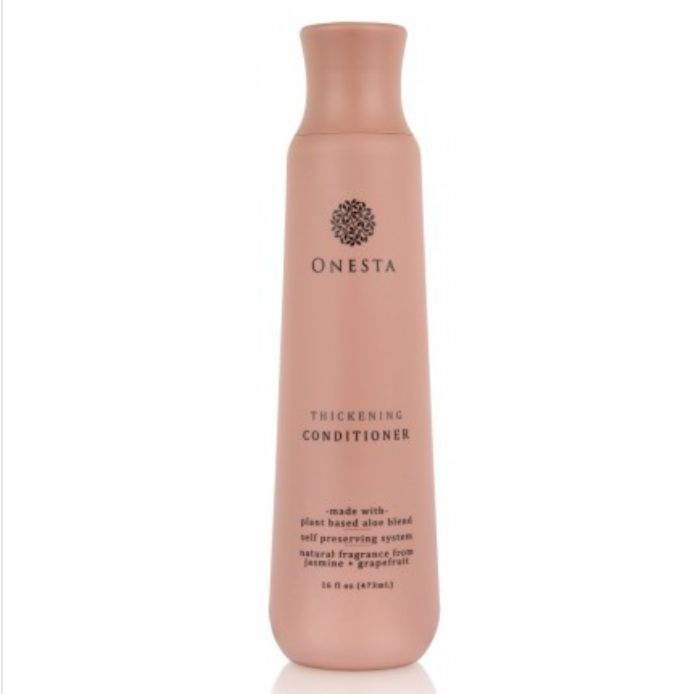 Onesta Thickening Conditioner
Original price
$26.00
-
Original price
$26.00
The Thickening Conditioner's nutrient rich formula utilizes Organic Extra Virgin Coconut Oil to repair damage, provide a protective layer, sealing moisture into the hair. Organic Neptune Algae and Organic Sea kelp delivers nutrient body building protein to limp and fine hair.
Benefits: Gentle plant based cleansers add Body, Volume & Luster.
Organic Properties: Aloe Juice, Kelp & Algae extracts.
Natural Fragrance: Jasmine & Grapefruit Peel.
Nutrition: Vitamin B1, B2 & Calcium.
Why Onesta?
Onesta uses natural and plant based ingredients, all their products are organic Aloe Juice based.  Aloe nourishes hair with moisturizing and soothing properties. 
Onesta strives to keep their ingredients as natural as possible without compromising performance.  Their formulas are free from Parabens, Sulfates, Gluten, Dyes, DEA/TEA, Phthalates, Sodium Chloride, Propylene, Glycol, Synthetic Fragrance, Formaldehyde and preservatives.
Onesta means "Honesty"
100% natural fragrences
Easy-to-recycle bottles
Free of harmful chemicals
Certified organic botanical extracts
Cruelty free and made in the USA
Plant-based aloe formulas
Availability:
in stock, ready to be shipped
Delivery time
We offer free U.S. based same day shipments!
Reach out for support!
Chat with us anytime to contact our U.S. based support!